Cozzetti & Gemmill Biography

Late 1960s
Bob Cozzetti and Tim Gemmill (best known as Cozzetti & Gemmill) met in Seattle, Washington in 1965 and became good friends In 1967. Tim was playing tenor saxophone & flute in the Jimmy Hanna Big Band. Bob and Jim Ogilvy (Jimmy Hanna) had grown up together on Capital Hill, in Seattle. He was helping Jim with some management duties and occasionally playing trumpet in the band, as well. They soon formed a musical partnership marketing themselves as a trumpet, saxophone and flute section for hire (primarily for rock and rhythm & blues bands). In 1968, they drove to Los Angeles and spent a year playing with different groups; mostly rock. They then traveled back east to Boston, Massachusetts. Their intent was to visit the Berklee College of Music and check out the local jazz scene. After a few months, they returned to Seattle to help form a six-piece avant-garde jazz orchestra: Cosmic Revolution Jazz Sextet. Group members included Pete Leinonen (acoustic bass), Mike Jacobsen (cello), Steve Swartz (drums) and Charles Jefferson (trumpet). Cozzetti performed on acoustic piano, while Gemmill played tenor saxophone and flute. After the Cosmic Revolution Jazz Sextet broke up, Tim and Bob (along with drummer Steve Swartz) joined a newly formed rock and R&B band: Ron Holden & Good News. Ron Holden is remembered for his 1959 ballad "Love You So," which became an international top 10 hit, climbing to #7 in Billboard. Other members were Toby Cyer (electric guitar) and Gary Snyder (electric bass); known for his work with Jimmy Hanna and the Dynamics. Cozzetti & Gemmill (and Swartz) spent a total of eight months with Ron Holden & Good News.
Beginnings (1970-1972)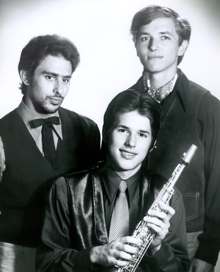 In 1970, Tim, Bob and Steve left Ron Holden and formed a jazz-fusion group: Music Projection Trio, noteworthy for its lack of a bass player. MPT got their first big break when they were invited by promoter and tenor saxophonist Joe Brazil to open for the Herbie Hancock Sextet, in October 1970, at Club Ebonee (Central District) Seattle. Also, in November, Music Projection Trio performed at the Jazz Ragtime Festival with Ramsey Lewis, the late John Lee Hooker, the late Jo Jordan and the late Eubie Blake. Another setting for the trio was an appearance at a Seattle promotional event June 6, 1971, for the opening of the racing film Le Mans (starring Steve McQueen). In August, 1971, Music Projection Trio performed for Rock Kaleidoscope at the Seattle Center Mural Amphitheatre; event sponsored by Seattle mayor Wes Uhlman (mayor from 1969-1978). Cozzetti received a letter from the mayor's office thanking him: in the letter, dated September 9, 1971, Mayor Uhlman wrote, "May I take this opportunity, on behalf of the people of Seattle, to thank you for the hours of help and participation you gave to Festival '71 at the Seattle Center." In May 1972, MPT performed as an opening act for the Charles Lloyd Quartet at the Fresh Air Tavern; Seattle. Many well-known jazz and blues artists performed at this club, including Albert Collins, Johnny Otis and Muddy Waters.
New York City Period (1972-1977)
After moving to Hackensack, New Jersey in September 1972, Cozzetti, Gemmill and Swartz continued to perform as Music Projection Trio. One significant performance in Manhattan was appearing at the Mercer Arts Center, where they were regulars in the 'Blue Room' with Albert Dailey. On November 11-13, 1972, MPT performed at a "Guest Appearance Showcase" event at the Village Gate in Greenwich Village (NYC). They were asked back to perform at a later date.

In early 1973, Cozzetti & Gemmill changed the group name to Rorschach (after being told that their music resembled the ink-blot test). In March 1973, Rorschach opened for the legendary Mongo Santamaria Big Band at Kenny's Castaways in Manhattan's West Village. Santamaria was famous for salsa and Afro-Cuban music. In a March 15, 1973 review, for the music industry trade magazine Cash Box (Billboard's main competitor at the time), critic Robert Adels wrote "Rorschach is Bob Cozzetti on Fender Rhodes and trumpet, Tim Gemmill on alto and tenor sax and Steve Schwartz on drums. Both Tim and Bob occasionally move over to maracas, but it's Steve's inventive work which truly keeps the beat interesting."


In the mid-1970s, Steve Swartz left the trio and Rorschach became a quartet with the addition of the late bassist Midge Pike, whom had performed with major jazz artists Jackie McLean, Albert Ayler and Paul Winter. The lineup during this period consisted of Cozzetti on trumpet or Fender Rhodes electric piano, Gemmill on tenor & soprano sax or Fender Rhodes electric piano, Pike (bass) and Wes Jensen or Bruce Jackson (drums & percussion). Cozzetti & Gemmill, as co-leaders, rotated between horns and keyboards, sharing their dual role up front. Cozzetti & Gemmill also continued to perform at club and concerts outside of New York City, traveling back and forth between the east and west coasts. In Seattle, they often played with drummer Fred Taylor and electric bassists Steve Bartlett or Bruce Phares. One such event was an appearance by Rorschach (Fred Taylor drums and Bruce Phares bass) on May 22, 1976, with fusion guitarist Larry Coryell, at the Bellevue Jazz Festival; Bellevue Community College (Bellevue, Washington).

In May 1977, Rorschach returned to New York City, where they were invited to perform at an outdoor concert series put on at Lincoln Center. Midge Pike (bass) and Bruce Jackson (drums) performed at this Lincoln Center event, which reviewer Dick Murphy briefly mentioned in a June 1, 1977 write up in his column And All That Jazz. Murphy wrote, "Another group, based in New Jersey, just starting to make fusion statements in New York is Rorschach. They recently played to the afternoon crowd outside Lincoln Center and they may develop into a band to reckon with."

Another well-known Manhattan venue that Rorschach performed at during this period was The Bitter End, located at 147 Bleecker Street (West Village). The Bitter End, which opened in 1961 (and still open in February 2015), is famous for rock and folk, but has had some great jazz artists over the years (including Mose Allison, Chick Corea, Stan Getz, etc.). During Cozzetti & Gemmill's New York City period, Rorschach performed at the United Nations and were part of a summer concert series in Brooklyn (including performances at the Brooklyn Museum's Theater in the Back).
Seattle: Late 1970s and 1980s
In late 1977, Cozzetti & Gemmill moved back to Seattle, where they continued to perform as Rorschach with Fred Taylor and Steve Bartlett before changing the name of the group to the Cozzetti & Gemmill Quartet. They were hired to perform at Parnell's on January 13, 14 and 15, 1978. Parnell's was the top jazz club in Seattle at that time. As the Cozzetti & Gemmill Quartet, the group recorded its first album at Pacific West Recorders (Concerto for Padré) March 16, 1981 and asked jazz critic Lee Underwood (who was the West Coast editor of Down Beat at that time) to write liner notes. Concerto For Padré, released on Cozzetti & Gemmill's own label Cozgem Records, has Cozzetti on trumpet & acoustic piano, Gemmill on tenor & soprano sax, acoustic piano and Fender Rhodes electric piano, Steve Bartlett (electric bass) and Fred Taylor (drums). In his liner notes, Underwood wrote, "As composers, conceptualizers and improvisers, Cozzetti and Gemmill are well aware of the rich legacy handed them from the masters of the American jazz past. Their influences include the immortal John Coltrane, the unique McCoy Tyner, the funky Horace Silver, and the Prince of Darkness himself, the great Miles Davis." Underwood also commented on the LP's combination of acoustic and electric instruments and noted that the title Concerto For Padré was dedicated to Cozzetti's father, Louis S. Cozzetti, who had passed away in 1974.


In September of 1982, jazz critic Carl Brauer reviewed Concerto For Padré, in a column for Cadence. Brauer wrote that the performances "vary from the modality of 'Raindrops' to the solo piano performances of the title track." In 1983, Cozzetti & Gemmill recorded their second vinyl album, Soft Flower in Spring, released on an independent label (ITI Records). The lineup consisted of Cozzetti, Gemmill, Bartlett (bass) and Bob Merrihew (drums). By this time, they were just calling themselves Cozzetti & Gemmill. In a 1983 review for Downbeat, jazz critic A. James Liska wrote: "The democratic spirit evident in Soft Flower in Spring, the second album by the twosome's quartet, reflects a rare cooperative effort in design, direction and detail whose teamwork is as impressive as the music." A 1983 interview with Scott Grossman, of the Daily Bruin, described some of the disappointments they had experienced with record companies during the 1970s. Gemmill told Grossman that when they were still going by Rorschach, in 1972, they submitted a demo to an A&R representative at Columbia Records; the A&R man told them that he already had a similar group. That group was Weather Report.

According to Bob, Topper Schroeder (the A&R person for Milestone Records) expressed interest in signing Rorschach to Milestone, but that idea fell through when Schroder was hired by RCA Records. Cozzetti told Grossman that in 1978 & 1979, Cozzetti & Gemmill were signed to an independent label called Red Mark Records and hoped that this label would be releasing an album by them. But, according to Cozzetti, "the company went into receivership and decided to do away with their jazz label. So we didn't get our album out, we were hung up for two years in contracts, and we didn't even get (the album) released."
The 1990s and Beyond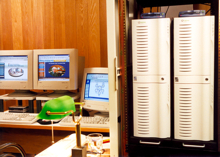 After the 1980s, Cozzetti & Gemmill continued to perform and write music but expanded into a variety of Web based projects. Rocka Records was started in 1994 in order to release a new CD: Timeless (compilation of vinyl recordings Concerto for Padré & Soft Flower in Spring). Rocka Studios was involved in audio projects, A La Carte Web Design offered Web design & development and Rocka.com (1999-2004) was a professional Internet Service Provider with 24/7 Web hosting services; setting up POP3/ SMTP email server accounts, full service website maintenance and free links on MallontheWeb.com and/or MusicontheWeb.com. Customers included a hip-hop record label in Manhattan, national artist (guitarist) in Nashville and a film production company in Los Angeles, Cailfornia. Cozgem Studios now provides all graphic design and/or animations for MusicontheWeb.com (Music on the Web®), as well as the graphics for albums produced by Cozgem Records.
Cozgem Records in the 2010s
Cozgem Records has released three CDs in the last five years. Timeless (2010) was digitally remastered (engineer; Ashley Shepherd), with new graphics. Voyage of the Mummy (2011) has never-before-released material from their 1977 'live' performance at Gerde's Folk City in Greenwich Village (NYC). The lineup is Gemmill (soprano saxophone), Cozzetti (Fender Rhodes electric piano), the late Midge Pike (bass) and Wes Jensen (drums). Except for a performance of John Coltrane's "Cousin Mary," Cozzetti & Gemmill perform original songs on Voyage of the Mummy. In December 2013, Cozzetti & Gemmill co-produced a new CD by Tim Gemmill: Road Songs, which was released on the Cozgem label under his own name.
Gemmill's sequel to Road Songs, titled Road Songs 2, was released by Cozgem Records in 2017. In his liner notes for "Road Songs 2," journalist Alex Henderson noted that Cozzetti & Gemmill produced the album together but described Gemmill as "the one in the driver's seat." According to Henderson, "In addition to playing all of the instruments himself and providing the sounds of everything from drums and bass to keyboards, Gemmill composed most of the material" on Road Songs 2. Henderson's liner notes quoted Gemmill as saying, "Bob was a consultant on Road Songs 2. When I was recording this album, Bob would come over and listen and comment on what I was doing. I would show Bob what I was working on and get his input."
Gemmill, Henderson said, "composed six of the seven selections on Road Songs 2, including 'Super Cool,' 'Proteus 2,' 'Moog Blues,' 'A Little Something,' 'Groove On' and the Asian-flavored 'Domo Arigato.'" The only track on Road Songs 2 that Gemmill didn't compose, according to Henderson, was an arrangement of John Williams and Leslie Bricusse's "Can You Read My Mind?," originally heard in the late 1970s movie Superman (which starred Margot Kidder and the late Christopher Reeve). Henderson wrote, "In its 1979 incarnation, 'Can You Read My Mind?' was an adult contemporary ballad performed by singer Maureen McGovern. Gemmill, however, performs Williams' melody without Bricusse's lyrics, putting a funkier spin on the song and taking it more in the direction of fusion. And while Gemmill employs sampled wordless background vocals on 'Can You Read My Mind?,' it is essentially an instrumental performance."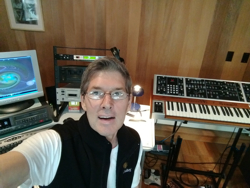 Henderson's liner notes quoted Gemmill as describing his work on Road Songs 2 as that of a "digital orchestra." According to Henderson, Road Songs 2 finds Gemmill "using synthesizers that range from the UltraProteus to the Memorymoog." Henderson quoted Gemmill as saying, "I really do have a digital orchestra on this album. I'm writing the parts for all the instruments, and I play everything. That's the fun part about it: being able to sit there at the computer and feel like I'm composing for a whole band, a whole orchestra. To me, that's enjoyable."
Henderson described Road Songs 2 as an album that combines jazz, funk, soul and rock elements. Henderson said, "It is no coincidence that some of the song titles on Road Songs 2, especially 'Super Cool' and 'Groove On,' would not have been out of place on a Kool & the Gang, Parliament/Funkadelic or Bar-Kays album from the 1970s." Henderson quoted Gemmill as saying, "Bob and I grew up on John Coltrane, but Road Songs 2 has more of the R&B and funk influence. When I'm working, I sometimes find myself asking, 'What would James Brown do?' And sometimes, 'What would Miles Davis do?' Miles would create some really interesting sounds."

Alex Henderson
July, 2017
alexvhenderson.com
Discography
2017: Tim Gemmill - Road Songs 2 (Cozgem Records)


2013: Tim Gemmill - Road Songs (Cozgem Records)



2011: Cozzetti & Gemmill (Rorschach) - Voyage of the Mummy (Cozgem Records)



2010: Cozzetti & Gemmill - Timeless (Cozgem Records)



1994: Cozzetti & Gemmill - Timeless (Rocka Records)



1984: Cozzetti & Gemmill - Soft Flower in Spring (ITI Records)



1981: C & G Quartet - Concerto For Padré (Cozgem Records)