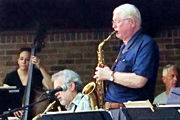 David Franklin
Music Reviewer
Genre: Mainstream Modern Jazz

David Franklin was a regular contributor to Cadence, off and on, for 30 years and wrote for JazzTimes for nearly 25 years. He was also a charter reviewer for the online Jazz.Com. The holder of a Ph.D. in music education, he is now Professor Emeritus of Music at Winthrop University, where he taught, among other things, jazz history and jazz appreciation and directed the large jazz ensemble. He was also the editor of Jazz Notes, the journal of the Jazz Journalists Association, and was the Jazz History Materials Chairman for the International Association of Jazz Educators.  He co-authored the article on Bennie Wallace for the Grove Dictionary of Jazz and wrote about Dizzy Gillespie for the South Carolina Encyclopedia. Additionally, he produced and hosted two jazz radio programs that were broadcast by South Carolina Educational Radio Network. With extensive experience as a saxophonist in a variety of professional contexts, he is presently playing with the 18-piece Charlotte (N.C.) Jazz Orchestra.
1) BOB COZZETTI AND TIM GEMMILL (RORSCHACH) - VOYAGE OF THE MUMMY COZGEM 102
COUSIN MARY / RED VALLEY / INTRO TO VOYAGE / VOYAGE OF THE MUMMY 45:42
Cozzetti, el p; Gemmill, ss; Midge Pike, el b: Wes Jensen, d. Summer, 1977, New York, NY.
2) BOB COZZETTI AND TIM GEMMILL - TIMELESS COZGEM 101
FOR THE ROCK ARTIST* / CYCLOPS / CAPTAIN PIKE / BLUE JAY / SOFT FLOWER IN SPRING* /
TREE LEAVES* / CONTEMPLATING RAINDROPS / CONCERTO FOR PADRE / COLONY FOUR / CHINA 59:11
Cozzetti, tpt, synth, p; Gemmill, ss, ts, synth, el p, p; Steve Bartlett, el b; Fred Taylor, d; Bob Merrihew, d*. 1981 and 1983*, location not given.
The ensemble then known as Rorschach recorded (1) live to two-track tape at a New York club in 1977, but the recording remained in storage until it was recently converted to disk. Having changed the group's name to Cozzetti & Gemmill and modified their personnel, they recorded the album Concerto for Padré in 1981 and, with a change in drummers, Soft Flower in Spring in 1983. The later two releases were edited and re-mastered to create (2).
(1) consists of Coltrane's Blues "Cousin Mary" and extended versions of two original compositions (plus a short intro to one of them). The former features just the trio of soprano, bass and drums in a comfortable straight-ahead mainstream modern performance. Gemmill produces a nice post-Coltrane sound on the horn and phrases accordingly. "Red Valley", with the electric piano added, starts as a gentle waltz, but gets more forceful at times. The soloists work over its modal harmonies at length. After a short introduction made up of static exotic sounds, the lengthy "Voyage of the Mummy" continues the intro's exotic ambiance with Far Eastern-sounding scales, a simple modal melody, and ostinato background figures, with Gemmill's fluid soprano at times evoking aural images of a snake-charmer. Electric bassist Pike contributes as agile solo of his own.
Although the instrumentation of (2) is also a quartet, it seems larger because Gemmill plays synthesizers and/or keyboards behind Cozzetti"s trumpet and Cozzetti does the same for his co-leader's saxophones. Gemmill usually is heard on soprano or tenor saxophone, but he switches to electric piano to accompany Cozzetti's bravura trumpet performance of "Cyclops" and to acoustic piano for the trumpeter's calmer rendition of "Soft Flower in Spring." Additionally, the repertoire of (2) and the styles it represents are more varied than on (1). Its palette is broad enough to include the Jazz-Rock "For the Rock Artist" as well as the somewhat Folkish recital piece "Concerto for Padré", a feature for Cozzetti's solo acoustic piano. And it also has room for the swinging straight-ahead soprano-bass-drums blues "Colony Four" as well as Gemmill's one-man synthesizer---piano duet "Blue Jay."

David Franklin
December 2011
Cadence Jazz magazine